Before getting to see about anything, let's have a look at virtual real estate investing. It is the art of being able to run your investment business from anywhere you want with your laptop and your phone.  It's all about equipping yourself with systems that will allow you to buy and sell your real estate deals through the internet. Well, this may sound simple, but if you are planning to get into it not knowing the strategies then you are sure to get burned, but there is no need to fret and this article is said to help.
Virtual investing systems
There are five steps to it and you will learn how to:
Find the right market
Build the power team
Analyze the deal
Process the deal
Closing the deal
The best part is that, these aforesaid topics are covered in-depth such that you can get into the investing process without much ado.
Whether you would like to put your real estate business on full automatic or wanted to make a full-on investing time; wouldn't it be GREAT to spend your time relaxing while your real estate business runs itself? And wouldn't you like to learn how to do all this and get your Breakfast without much effort, and then it's very simple, Zack Childress Real Estate Workshop is said to help.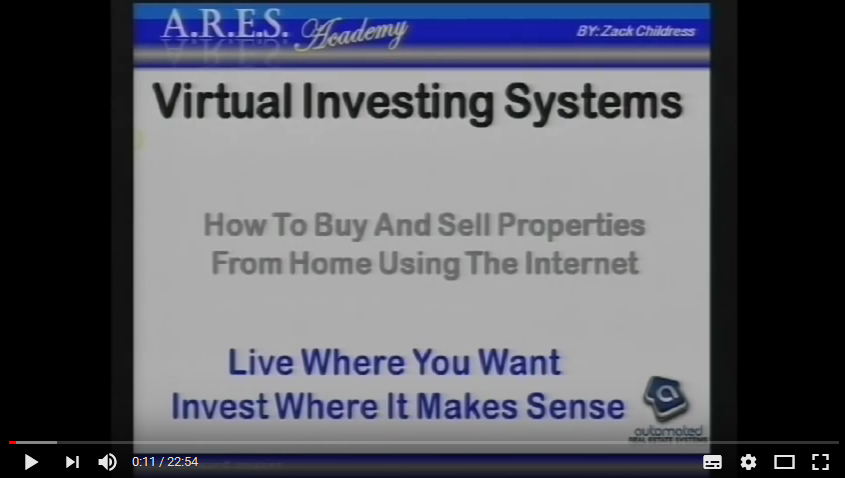 Well, you may be thinking that this workshop is for the level two professionals, well, Zack Childress workshops don't work that way. Students from all walks of life, have benefitted from our seminars and classes, each with their own unique background, they all have had the same goal in mind: to become successful real estate investors. If you are strong about your goals and wanted to have guidance, then that's more than enough. We provide our students with real estate coaches and world-class mentoring to help them start, build, and expand their own real estate investing businesses. By the time they complete the real estate program, students have all of the tools and know-how they need to turn real estate investing into a lucrative career. Having been a life-changing experience for every student who has finished the program, take the time to read and listen to some of the success stories of students who have completed one of the most popular real estate training workshops and you are sure to know us better this way.
No matter how justifying we can be in letting you know about the benefits of Zack Childress virtual real estate investing workshop, there's nothing that can best define it like what the past virtual real estate investing attendees have to say and how beneficial it is to them. So do read what they have to say about it and book yours to unearth magical strategies and scale up your riches.